Custom Nameplate Engraving
A 1 x 3 inch brass plate will be the perfect addition to any memorial urn. Easy to apply with adhesive backing. Up to 3 lines of text on each plate for $15 (plus tax) Plate will be engraved as written, and centered to achieve the best possible appearance. FREE shipping & handling.
The beautiful carved wooden urn below is provided with each private & priority cremation.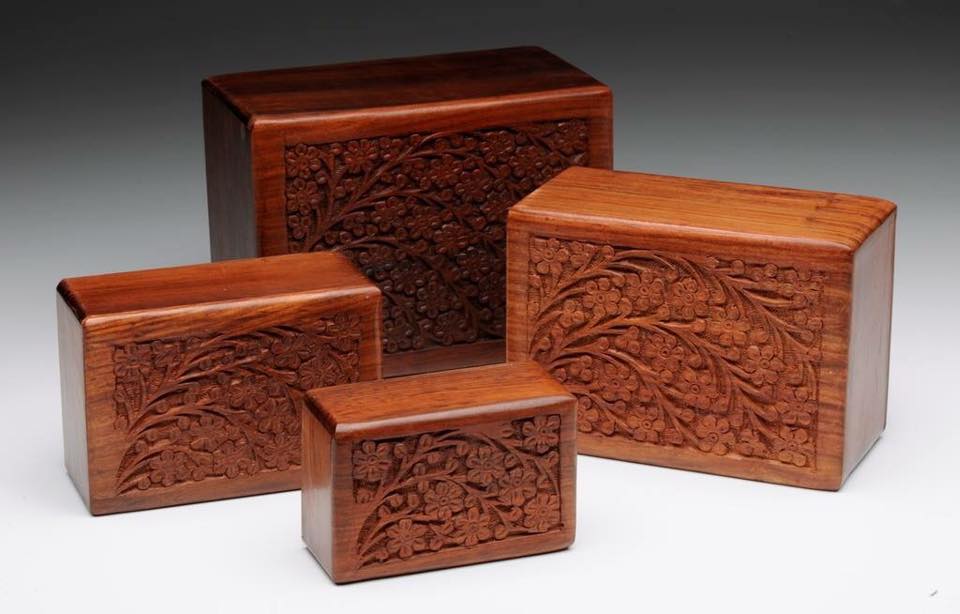 Click on the product image for more options
Welcome to our website! Displayed are several categories of cremation urns and burial markers which we can custom order for you from our wholesale manufactures. Each order is custom engraved and shipped quickly to our facility, arriving in less than 5 business days on average. Only burial markers take a little longer. Please give us a call to inquire about these beautiful urn varieties. We would be honored to help you in your search for cremation services and urn products. Simply click on the "contact us" button located at the top of this page and look for our address and phone number. Thank you for visiting our site, we hope you find it helpful as you contemplate a final resting place for your beloved pet.
A paw print is a lasting way to honor your beloved pet
A clay paw print comes with an easel and is $34 + tax
An ink paw print is made on heavy cardstock & laminated to preserve it's beauty. Cost is $22 + tax
"During such a difficult time, the S&S Pet Cremation staff were extremely compassionate and helpful with making decisions on what was best for our pet rabbit, Mama. I am so happy we went to them and would highly recommend them to everyone."-Ashley A